Raised in Adelaide, South Australia, Ramona grew up a dedicated stage performer, gymnast and dancer before continuing on to competed at a national level in gymnastics, touch football and snowboarding. Her tertiary studies in Outdoor Education and Wilderness Survival took her on many great adventures across Australia from SCUBA diving to white water kayaking to rock climbing and alpine touring. Ramona spent over 6 years following her passion for snow sports by working the southern Hemisphere winters in Falls Creek, Australia and the northern winters in Telluride, Colorado, being on snow for up to 200 days a year. Naturally the off seasons were spent on a beach somewhere.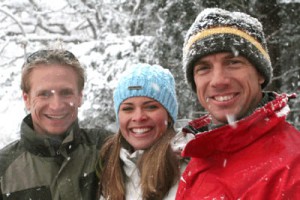 Ramona started her TV career in Falls Creek Australia as a snowreporter for network news and simultaneously as the on-air talent for the 'SNOWSHOW', a travel lifestyle TV series that took her to more than 75 ski resorts worldwide bringing winter holiday destinations to Australian and European viewers. (Watch it at www.snow.tv)



In 2006, Ramona took full time work with PlumTV as a producer/host, launching live daily TV shows in Telluride, before moving to Aspen, CO to host and produce their national high-end Mountain lifestyle show called 'Top of the Mountain.' Also known for her role as host on the regionally popular live morning show called Plum Daily, Ramona then continued the adventure on the PlumTV network shooting her very own edge-of-the-seat lifestyle show called 'Keeping up with Ramona.'


The Best Things in Life are Plum
Taking the freelance plunge in 2011, Ramona continued the adventure with cameo appearances, playing herself, in the smash hit daytime soap opera the 'Bold & the Beautiful' to living the dream while hosting Caribbean Travel + Life's 'Best of the Caribbean' television series. In 2013 Ramona took the world of action sports by storm, hosting the global expansion of X Games on ESPN, traveling to all six events throughout five countries. With coverage on ESPN, ABC, ESPN2 and WatchESPN Ramona is now a recognizable face and brand who continues to combine her adventurous passion for the outdoors with captivating and innovative programming.